Lush green meadows filled with flowers mingle with fields of metre-high corn. Bordered by just woodland and mountains, this backdrop progresses through the wide Pustertal Valley. This is the landscape that I travel through on my way to Mühlwald. Because I and my sister are going to spend a weekend at
Land Palais
.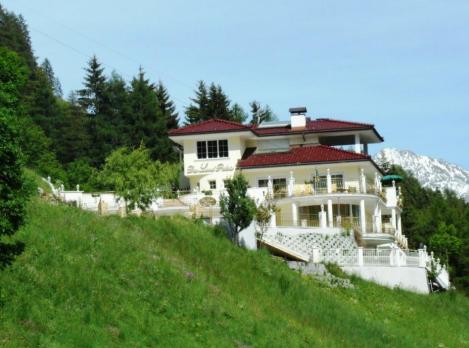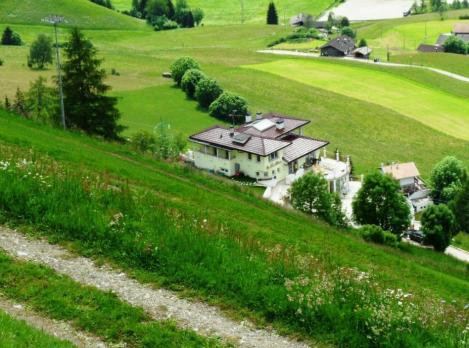 Taking a breath instead of rushing around
We can already spot Land Palais, which has been awarded five suns, on the slope above Mühlwald. We drive through the village on the windy road, pass farmsteads and gradually come to realise that Mühlwald is a pretty peaceful place. This is the countryside. And our country house is right in front of us. We meet two youngsters in the car park who are busy sweeping the cobbled courtyard. A little girl scurries into the house ahead of us – the children are involved in the family business, too. Our host, Herrmann Plaickner, does not keep us waiting, but extends us a hearty welcome.
Crystal, glass and running workouts – first impressions
A crystal chandelier hangs down from the upper floor over the open ceiling in the lobby, with classy, wine-red settees and a glass table beneath it. We sit down. "You'd like to do a running workout with me, I hear?" Herrmann says. My sister and I agree with a wry smile. Our host laughs: "In this weather it's not really a good idea – but you're welcome to go down and use the indoor pool." This is not a difficult decision and we plump for the pool! Yet we're still curious. This building has something special about it. It emanates peace and contentment. You notice on entering that there's a special philosophy behind it. And we want to find out what it is.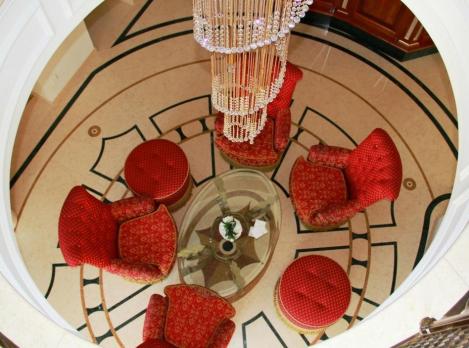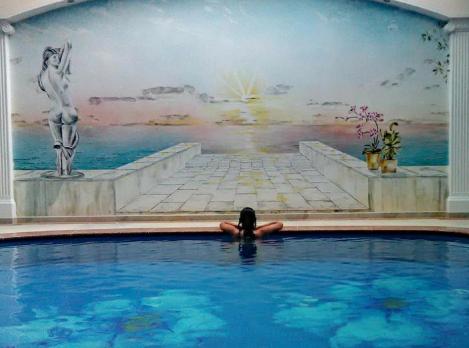 A rural temple
First of all, we are treated to a short tour, which shows us what Land Palais well has gained its five suns for: fine details, elegant furnishings, lots of light and every comfort catered for. Our room welcomes us with a royal blue four-poster bed. A mirror framed in porcelain hangs in the bathroom and the private terrace looks like a panorama platform with views of the high mountains, a roaring stream beneath, and the little village of Mühlwald at the foot of the slope. Rural luxury at its best, in every corner of the house. The Plaickners are clearly concerned that their guests should have an elegant holiday. The contrast between the family atmosphere and the crystal chandeliers is a winning combination. The wellness area is no less impressive: a Greek palace – with fitness room, sauna, steam bath and counter-current system. Soft music and a glass facade allowing access to outside and a small sunbathing lawn. I can hardly wait to dive into the dark blue waters of the pool...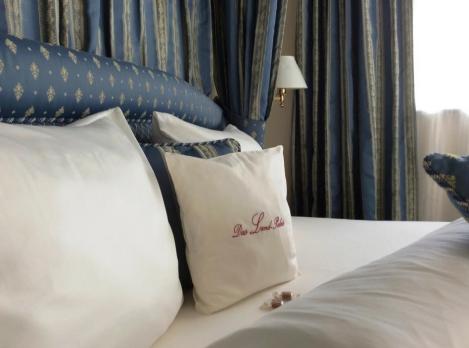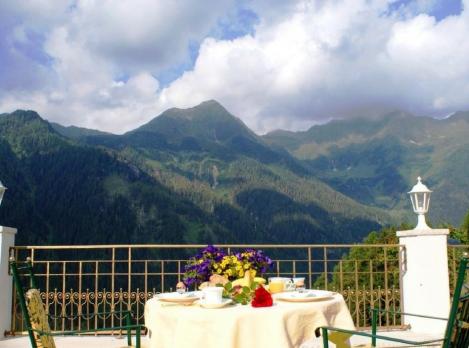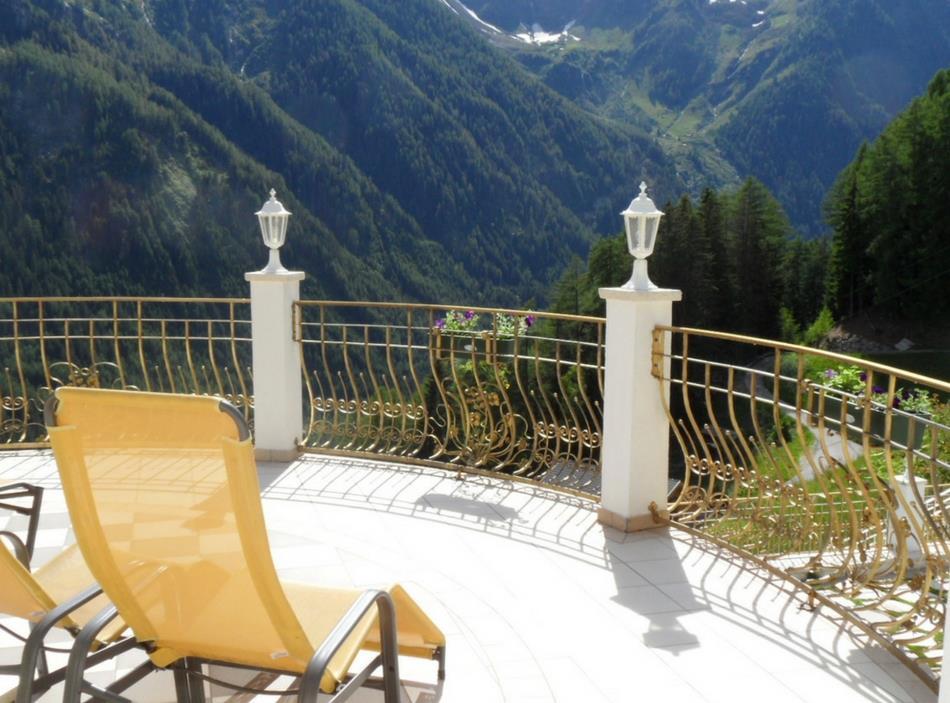 Low-carb: no carbohydrates
In the evening, after a quick trip to
Bruneck
and a few hours' enjoyment in the wellness area, the Plaickner family takes us to eat with their regular guests. Ursula Plaickner would otherwise have cooked for us herself: no carbohydrates – these are rarely seen at Land Palais. This is where the special feature of the place becomes evident. We use dinner as a way to get to the bottom of the house philosophy. No carbohydrates, running workouts, rural luxury – these are the key words. Ursula Plaickner is quite simply convinced about the low-carb diet because she has herself experienced the good it can do. You simply don't need grains and sugar, she says. Those listening to her, no matter how much they love pasta, will give doing without carbs a thought.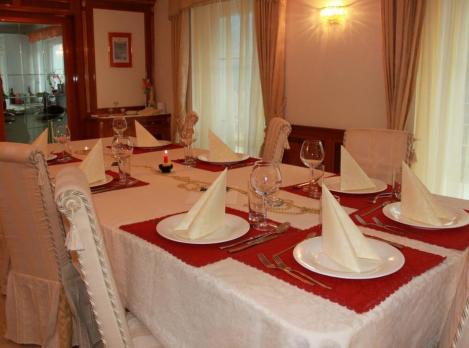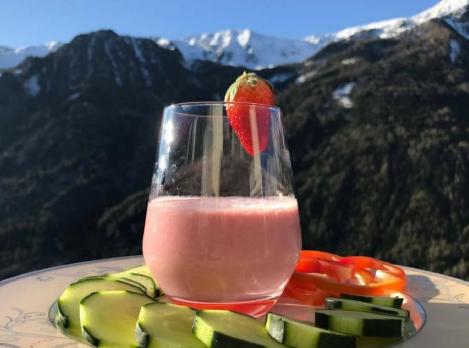 Sport, nature, a philosophy of life: pure health
The healthy eating methods of the house are perfectly combined with sport undertaken in the open countryside of
Mühlwaldertal Valley
. This is Hermann Plaickner's area. He is a successful marathon runner and manages to combine this passion with his work as a private host. Guests at Land Palais are supposed to profit from the Plaickners' healthy lifestyle, too. It makes a nice change to lose a few pounds when on holiday rather than gaining them, as often happens. The Plaickners and Land Palais are simply a winning team. They win people over with their friendliness, charm and knowledge. And with their good example. For health and fitness are central themes to our society. They go hand in hand and do not have to mean doing without, but signify growth: of quality and enjoyment. For it's all about conscious enjoyment here – meals can be delicious even without carbohydrates. Most people don't know that yet! And Land Palais is a place where you can find this out for yourself amidst a luxury holiday in the countryside.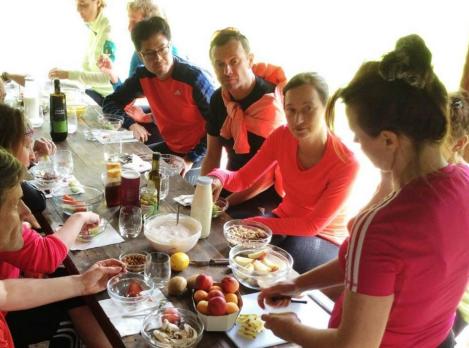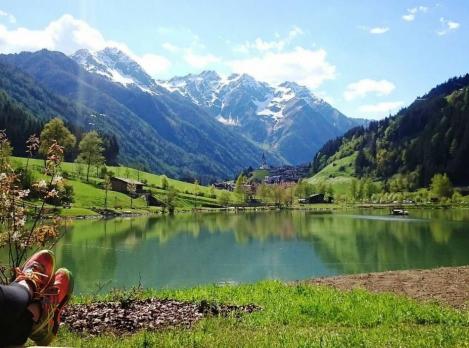 Farewell
I, for one, would like to spend a loooong holiday here after the small, but select breakfast buffet of chia and flea seeds, yoghurt, cheese from the neighbouring dairy and pineapple. For the concept of Land Palais is one of a palace in the country. Healthy, fit and simply majestic!
Au revoir, Land Palais. We'll be back – and staying longer next time!